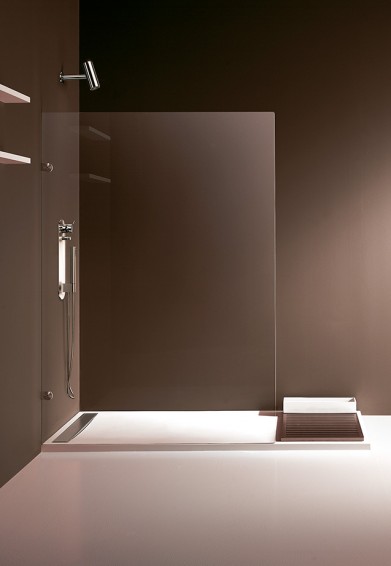 BONJOUR
Plato de ducha. Sanico. 2005
Diseño de plato de ducha que responde a un requerimiento básico: la posibilidad de incorporar mamparas estándar. Para ello se dejó una zona plana en su perímetro para que descanse la mampara. En el interior una superficie plana, con una levísima inclinación por la que el agua circula hasta el desagüe, oculto bajo una tapa de acero inoxidable. El grosor es mínimo, de modo que puede instalarse sobre el suelo o encastrado. Se diseñaron dos complementos: una plataforma de secado en madera de teca y un contenedor para botellas, esponjas, etc. realizado en el mismo material que el plato de ducha, que se fabrica en Stonefeel® y piedras naturales, en dos tamaños estándar: 80 x 130 y 80 x 180 cm, con disponibilidad de suministrarse con cualquier medida de largo entre 130 y 180 cm.
www.sanico.es
Premios: Design Plus. German Design Council. 2007
BONJOUR
Shower tray. Sanico. 2005
A basic requirement for the design was the possibility to incorporate standard-sized shower stall. The stall rests on a straight piece specifically designed for this reason. On the inside there is a surface that has a slight inclination so that the water runs toward a covered stainless steel drain. The shower tray was designed to be very thin so that it can be installed on top of the floor or built-in to the floor. Two items were designed to complement the shower: a wooden drying platform and a container for shower accessories (bottles, sponges, et cetera). The container was made out of the same material as the shower tray, both Stonefeel® and natural rocks, and was available in two standard sizes: 80 x 130 cm and 80 x 180 cm, with the option of customizing to any length between 130 and 180 cm.
www.sanico.es
Awards: Design Plus. German Design Council. 2007