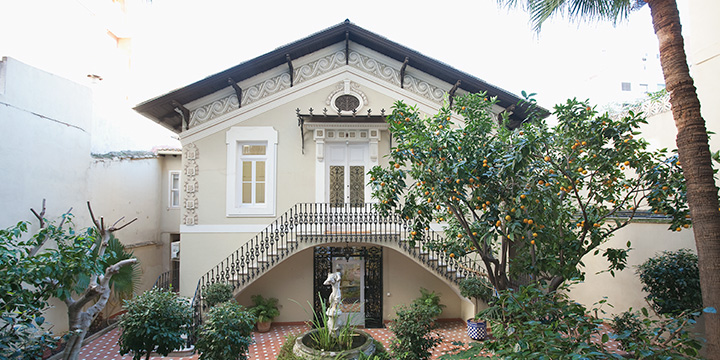 A design studio situated in Valencia. Their job consists of carrying out all types of projects related to industrial design and graphic design (editorial, corporate identity, packaging, etc…).
The studio was founded in 1995 by Nacho Lavernia (Valencia 1950). Previously, he had been part of the LA NAVE work team from 1984 to 1989. Nacho Lavernia was president of the Designers of Valencia Association (ADCV) and of the Spanish Federation of Design Associations (FESAD).
In the year 2000, Alberto Cienfuegos (Granada 1972) who was part of the studio since its foundation, become Lavernia´s partner and was involved as art director in industrial and graphic design projects.
Their projects have been nationally and internationally recognized with prizes such us LAUS (1986/97/98), DELTA (2003/07), AEPD (2006), TDC Certificate of Typographic Excellence of New York (2005/07), Design Plus ISH del German Design Council (2005/07), the Dieline Awards (2010) and the Pentawards (2011/12).
Both of them have have been professors at the University of Valencia.
They have taken part in several national and international exhibitions and meetings, and their work can be found in a great number of specialised publications.
In 2007 they were included in the book Design Now! from Taschen, an in-depth exploration of contemporary design collecting
the latest works by 90 of the world's leading designers.
Estudio de diseño con sede en Valencia. Su actividad se centra en proyectos tanto de diseño industrial como de diseño gráfico en cualquiera de sus variantes (editorial, identidad corporativa, packaging, webs, etc...)
Fue fundado en 1995 por Nacho Lavernia (Valencia, 1950) que previamente había formado parte del colectivo LA NAVE entre los años 1984-1989. Nacho Lavernia ha sido Presidente de la Asociación de Diseñadores de la Comunidad Valenciana, (ADCV) y Presidente de FESAD, Federación Española de Asociaciones de Diseño.
En el año 2000, Alberto Cienfuegos (Granada,1972) que trabaja en el estudio desde su inicio, se incorpora como socio, desempeñando labores de director creativo en proyectos de diseño gráfico e industrial.
Sus trabajos han recibido reconocimiento con premios tanto nacionales, LAUS (1986/97/98), DELTA (2003/07) y AEPD (2006), como internacionales, el Certificate of Typographic Excellence de Nueva York (2005/07), el Design Plus ISH del German Design Council (2005/07), los Dieline Awards (2010) y los Pentawards (2011/12).
Ambos han sido profesores de diseño en la Universidad de Valencia.
Han participado en exposiciones y conferencias de diseño nacionales e internacionales y sus trabajos están presentes en multitud de publicaciones especializadas.
En el 2007 aparecen incluidos en el libro Design Now de la editorial Taschen, donde se hace una selección de los 80 estudios de diseño de producto más destacados a nivel mundial.