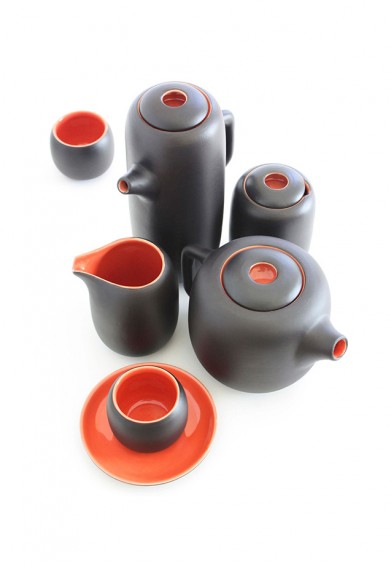 TEA SET
Juego de Té. Intermon Oxfam. 2008
Intermon Oxfam lleva más de 15 años trabajando en "Comercio Justo" apoyando a más de 100 grupos productores de África, América Latina y Asia, ofreciéndoles las herramientas y la asistencia técnica necesaria para que se incorporen al mercado internacional. Intermon Oxfam nos pidió que diseñaramos un juego de té en porcelana con la idea de incorporarlo a su catálogo de "Regalos Solidarios". Tuvimos que adaptarnos a las posibilidades, recursos y limitaciones de producción del grupo artesano, recurriendo a soluciones formales sencillas, a volúmenes de revolución para realizar en torno, y asumiendo que las pequeñas imperfecciones propias de un proceso artesanal formaban parte del proyecto, a la vez que lo enriquecian. Hacer de la necesidad virtud, lo demás lo puso el entusiasmo, el oficio y la entrega total de artesanos que luchan por abrirse paso en un mundo cada vez más tecnificado e impersonal.
www.intermonoxfam.org
TEA SET
Tea set. Intermon Oxfam. 2008
For more than 15 years Intermon Oxfam has been supporting "fair trade", helping over 100 groups of producers from Africa, Latin America and Asia, offering them the neccessary tools and technical assistance to introduce them into the internacional market. We were requested to design a tea set in porcelain to be included in the "charity presents" catalogue of Intermon Oxfam. We had to fulfil the possibilities, resources and production limitations of the group of artisans, resorting to simple formal solutions, to spinning volumes to be made on a potter's wheel and taking into account that the small defects, inherent to craftswork, were part of the project and enriched it. The idea was to turn necessity into virtue. The rest was possible thanks to the enthusiasm, the work and complete dedication of artisans struggling in a more and more technical and impersonal world.
www.intermonoxfam.org